Rent was due on the 5th
May 6-7, 2017
Opening Reception: Saturday, May 6, 2017, 6-10pm
What do we do in our homes? How do we occupy them, use them? What meanings do we attach to our living spaces? How do we dwell? What does it mean to be private, have privacy? What do we make available to those outside of our homes?
Rent was due on the 5th brings together eight artists to probe a dwelling and intervene in it. Considering the ever-growing xenophobia of our political climate, what of agoraphobia, the fear of going outside? How might these two be connected, and what can we learn about them through artist works that address the private sphere of the home?
Featuring works in sculpture, video, performance, photography, and installation by Danielle Deadwyler, Jane Foley, shawné michaelain holloway, Alice Kim, Blare LaBlonk, Amelia Phythian, Jordan Stubbs, and Minka Wiltz, Rent was due on the 5th takes over ALTERED MEANS HQ to make some unexpected encounters.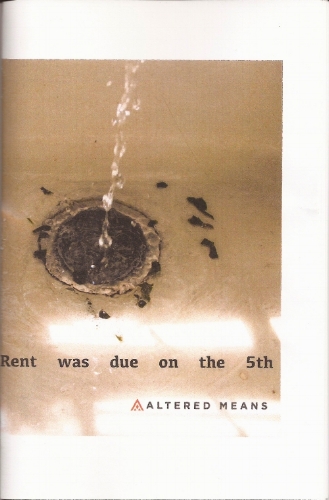 Accompanying the exhibition is a zine catalogue available for purchase featuring additional works by the artists.
$10
Email info at alteredmeans dot us to purchase!
PDF on the way